Brown - Ammon
scritto da: Mmichealal | segnala un abuso
Brown - Ammon
Robyn Lauren Ammon and Blake Travis Brown were united in marriage at 6 o'clock, Saturday, July 18, 2015, at Columbus Avenue Baptist Church in Waco, Texas. The ceremony was officiated by cousin of the groom, the Rev. Trevor Brown. Following the wedding, a reception was held at Ridgewood Country Club. On the eve of the wedding, the groom's parents hosted a rehearsal dinner at 'The Hall' at Diamondbacks.
Robyn is the daughter of Mr. and Mrs. Robert C. Ammon Jr. of Waco, and granddaughter of Mr. and Mrs. Robert C. Ammon Sr. also of Waco, and Mr. and Mrs. John Williamson Sr. of New Braunfels. She is a 2012 graduate of The University of Texas at Austin with a Bachelor of Science degree in Corporate Communications. Robyn is currently a Senior District Manager in Small Business Services at Automatic Data Processing in Houston, Texas.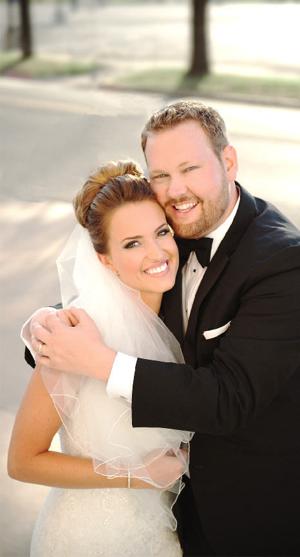 Blake is the son of Dr. and Mrs. Bertron Brown of Beaumont, and the grandson of Mr. and Mrs. Travis Brown also of Beaumont, and Mr. and Mrs. Weldon Dillard of Hot Springs Village, Arkansas. Blake is a 2005 graduate of Texas A&M University with a Bachelor of Arts degree in History. He is currently a Retirement Services District Manager at Automatic Data Processing in Houston, Texas.
The bride was escorted by her father and presented in marriage by her parents. Maid of Honor was friend and sorority sister of the bride, Bonner Voss. Bridesmaids were Ashley Cunningham, Stacy Epps, Katie Gaskin, Alexandra Johnson, Monique Rosales, Samantha Unell, and Brooke Siegmund (absentee). Flower girls were second cousins of the bride, Maya and Molly Kunkle. House party were Emily Green and Elizabeth Lyons.
Best man was cousin of the groom, Andrew Brown. Groomsmen were Jake Ballis, Dustin Causey, Aaron Garcia, Will Hoferer, Ben Nichols, and Will Tolliver. Ring bearer was second cousin of the bride, Jacob Wideman. Ushers were brother of the bride, Ryan Ammon, and brothers-in-law of the groom, Lance Way and Dave Ritz.
Scripture readers were sisters of the groom, Bethany Way and Blaire Ritz. Music was provided by organist Grant Frederick and musicians Justin Brooks and Debbie Byrd.
Blake and Robyn, who met in Houston by a mutual friend, honeymooned in Bora Bora and presently reside in Houston, Texas.
Brown - Ammon |
---
---
Commenta l'articolo
Potrebbe anche interessarti
---
---
---
---
---
---