'Joy' Costume Designer On What It Was Like Dressing Jennifer Lawrence
scritto da: Mmichealal | segnala un abuso
'Joy' Costume Designer On What It Was Like Dressing Jennifer Lawrence
A box office hit with Oscar buzz becomes that little bit more special when an Australian is involved in the project. In the case of David O Russell's new film 'Joy' starring Jennifer Lawrence and Bradley Cooper, we have Australian costume designerMichael Wilkinson to thank for that.
But this isn't the first time the designer has worked with Lawrence, Cooper and director David O Russell. The trio worked on American Hustle together which saw the resurrection of 70s con artists and opulent fashion played out in true Hollywood style.
With Man of Steel and both of the Twilight: Breaking Dawn films to his name, Wilkinson, a NIDA alumnus, grew up in Sydney and went on to work on the costumes for the closing ceremony of the 2000 Olympic Games before moving to The States.
Lawrence plays the title role in 'Joy' which is "inspired by true stories of powerful women and one in particular" as explained in the opening credits. It is referring to Joy Mangano, a single mum from Long Island who became a self-made millionaire thanks to a home invention she sold on a shopping channel in the early 90s.
While Russell can take credit for reuniting the all-star cast of Lawrence, Cooper and Robert De Niro, who previously worked on his 'Silver Linings Playbook' (for which Lawrence won an Oscar) it is through the style evolution of the main character Joy (Lawrence) that we come to understand her journey as we see her character grow over four decades.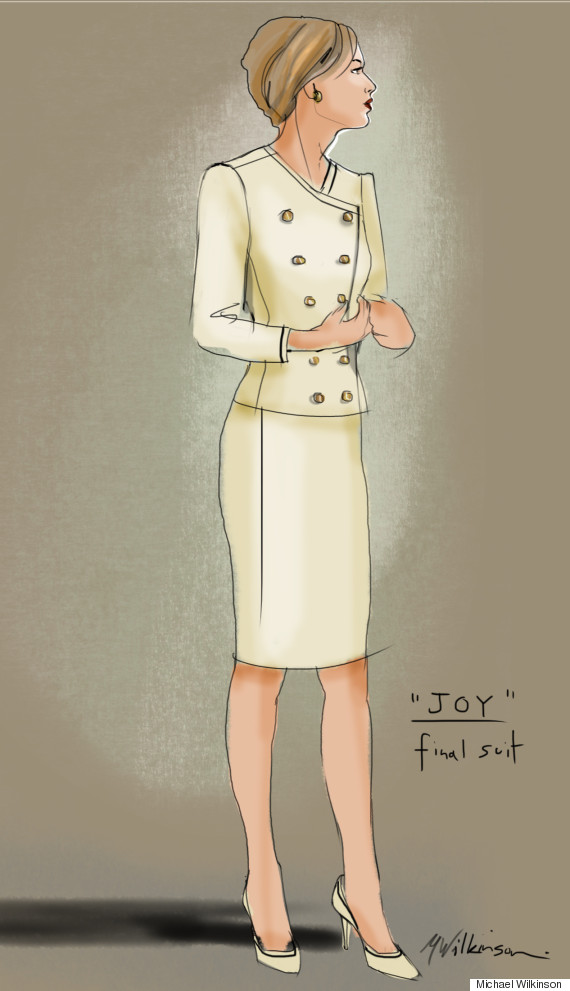 In an exclusive chat with The Huffington Post Australia, Wilkinson reveals what it was like to work with Lawrence for the second time around and the inspiration behind the costumes.
What first attracted you to the film?
"When I first read the script for 'Joy', I knew that, like in all of David O Russell's films, the clothes would define the characters. The costume design brief for the film was huge -- it crosses over four decades, and there are four generations of strong women who use their intelligence and intuition to create their own look, expressing who they are through their costumes.
What kind of research went into planning each character's wardrobe?
"We watched a whole range of classic films from different decades, mostly from the 40s and 50s. Each film was about women dealing with power and had a very specific visual style. I love these old films -- Mildred Pierce, All About Eve, Rebecca, Now Voyager -- films where the women show both inherent strength and a heartbreaking vulnerability."
We are first introduced to Jennifer Lawrence's character as a child. How closely did you work with Lawrence to develop her character?
"With Jennifer, there's always a liberating sense of trust and a willingness to explore. Fittings with her are always events to be looked forward to -- there are snacks, anecdotes, costumes and shoes flying across the room, all presided over by Jennifer's dog Pippi. We talk a lot about the character of course, but most of the work is non-verbal -- Jennifer has a way of knowing straight away if a costume feels right or wrong. I'm always blown away by the seemingly effortless way she can lose herself within the complexities of the characters that she plays -- one second you're joking around with her, the next minute, she's Joy Mangano, standing next to you. It's uncanny!"
The wedding scene is quite possibly the most hilarious -- no thanks to her father's (De Niro's) speech. Was Joy's dress what you had always envisaged?
"I found a vintage dress in a rental house that had exactly the right tone. I had always anticipated making a dress from scratch for her, but this dress was perfect and had a real authenticity to it. We made a few alterations to make it fit Jennifer properly, and then it was camera-ready. The dress is much more feminine and fussy than Joy's taste -- it reflects her mother's style. I wanted something that suggested that the dress had been picked out by her mother, that once again Joy was being controlled by other people's impulses, not her own."
You worked with Melissa Rivers who played her late mother, Joan. What was that like?
"It was such an honor to work with Melissa Rivers on this project and to help her transform into the image of her mother -- obviously a very emotional moment for her. I couldn't have asked for more direct feedback about what was accurate and what was not, her love of costume jewellery, her loyalty to certain brands and her indifference to other brands. She has two changes in the film -- for the first, we chose an eye-popping emerald green Oscar de La Renta, and the second a classic navy and cream Chanel - both accessorised by jewellery from Joan's own line.
The four generations of women in 'Joy' all have very different styles. How important was this to capture?
"Joy's mother, played by Virginia Madsen, watches soap operas and is inspired to deal with her own fears by the strong female characters on the show. She uses her staff discount at Bloomingdales to stay well-dressed and up-to-date, with a classically feminine style. Her grandmother is a tower of strength and support, created by the legendary Dianne Ladd. Her look was timeless and clean, with a practical elegance. With Joy's daughter, Christie, we witness the tone of the younger generation -- Christie also finds her own personal style, partly inspired by her mother. Each of these women we see in 1969, 1979, 1989 and 1999 -- the way their costumes change shows the audience how their role in the family shifts and evolves over the years."
We witness Joy grow from a young woman with little faith in herself, to realising her dreams. How important was Joy's style evolution to illustrate her maturity?
"The character of Joy is the heart of the film, she struggles to be a solid foundation for her family when everything and everyone is crumbling around her. Throughout the film, the audience sees her transform completely from a young, open-hearted college kid to a steely, resolute businesswomen and matriarch. Her evolution is charted through 45 costume changes, as she finds different ways of using her clothes to express her determination -- from rebellious jeans and T-shirts to expensive designer suits. Also, we had to create many different visual 'worlds' for the film -- there were multiple realities in the script -- dreams, memories, nightmares -- we wanted to show the way Joy's inner life and fierce imagination carried her through the storm she faced."
How closely did you work with hair and makeup?
"I worked very closely with the hair and make-up team, striving to show these transformations in a way that is striking and imaginative, but always authentic. The challenge is to make it all feel organic and intelligent, rather than pulling focus. When you're working with actors of Jennifer Lawrence's calibre, the results are always electrifying."
'Joy Costume Designer On What It Was Like Dressing Jennifer Lawrence |
---
---
Commenta l'articolo